In Venezuela, the country with the world's cheapest gasoline, a beleaguered economy may force the government to raise prices.
Overnight violence appeared to be the worst in at least a month for the Ukrainian protest movement, as the country's political crisis deepened.
Judges say case would involve 'sitting in judgment' on US and block move by Noor Khan, whose father died in a 2011 attack
A Pakistani man whose father died in a drone strike has failed in an attempt to hold British officials responsible for the killing.
The court of appeal ruled on Monday that considering whether GCHQ staff had passed on "locational intelligence" to the CIA before the attack in 2011 would involve "sitting in judgment" on the US.
Noor Khan, 28, lost his father, a tribal elder, to the strike on a local council meeting in North Waziristan, which had gathered to resolve a mining dispute.
"However the claims are presented, they involve serious criticisms of the acts of a foreign state," the three court of appeal judges concluded. "It is only in certain established circumstances that our courts will exceptionally sit in judgment of such acts. There are no such exceptional circumstances here."
The court would have to find the CIA implicitly guilty of a war crime before it could consider whether GCHQ had been involved, the court said.
Lawyers for the UK government had argued that the case should not proceed as "a finding by our court that the notional UK operator of a drone bomb which caused a death was guilty of murder would inevitably be understood … by the US as a condemnation of the US."
Responding to the ruling, Kat Craig, legal director of the human rights charity Reprieve, which is supporting Khan, said: "It is shameful that the risk of embarrassing the US has trumped British justice in this case.
"It now appears that the UK government can get away with murder, provided it is committed alongside an ally who may be sensitive to public criticism. It is a sad day when the rights of civilian victims of drone strikes take second place to the PR concerns of the US government."
Khan said: "I used to think that Britain stood for justice, but now it seems as though the government has put itself above the law.
"However, I am still determined to get answers from the UK government about the part they have played in the death of my father. The CIA's drone programme has not only killed hundreds of civilians, but is turning people in Pakistan against the US and its allies.
is why I was so upset to hear that Britain is helping the CIA to carry out these killings, and even more upset when the government refused to respond to my questions."
Rosa Curling from Leigh Day, which is representing Khan, said: "The court's decision not to determine the lawfulness of our government's involvement in CIA drone strikes in Pakistan, deadly strikes which have killed many civilians over recent years including my client's father, simply to spare the US government embarrassment is not only disappointing but also deeply worrying.
courts must have jurisdiction over the legality of our government's action irrespective of whether they act alongside a foreign state or not."
Read the whole story
· · · ·
it will attend this week's Geneva conference aimed at finding a resolution to Syria's war, that it will do so without agreeing to anything in advance.
Next Page of Stories
Loading...
Page 2
Next Page of Stories
Loading...
Page 3
Suicide bomber kills 13 in Pakistan city of Rawalpindi and insurgents attack Nato base in Zhari, Afghanistan
The Pakistani and Afghan branches of the Taliban mounted provocative attacks near military bases on Monday, the latest in a series of high-profile militant strikes on either side of the troubled border.
In the Pakistani garrison city of
Rawalpindi
a speeding suicide bomber on a motorbike killed 13 people, including five soldiers, after detonating himself at a checkpoint close to the headquarters of the country's powerful army. Dozens more were wounded.
Responsibility was claimed by the Tehreek-e-Taliban Pakistan (TTP), a coalition of Pakistani groups that pledges nominal allegiance to Mullah Omar, the leader of the Afghan Taliban.
Rawalpindi is just a short drive from the capital and is home to the headquarters of Pakistan's half a million strong army, which is deeply frustrated by the government's refusal to back a crackdown on militant groups.
Also on Monday, insurgents tried to fight their way into a Nato base in Zhari, one the rural districts bordering Kandahar in southern Afghanistan.
Afghan and foreign military officials said a suicide bomber in a car filled with explosives attempted to punch a hole in the wall of the base before eight armed attackers wearing foreign military uniforms and suicide vests attempted to rush inside.
A spokeswoman for the Nato mission in Afghanistan played down the incident, saying: "There was moderate damage to the outer perimeter of the base, but as soon as they attempted to breach it they were all killed."
Zhari – once the home of the Taliban's one-eyed leader Mullah Omar– has particular symbolic value for the movement. In the early 1990s, before the then obscure movement began its conquest of Afghanistan, Omar presided over a mosque in the area.
The US put considerable resources into attempting to dislodge the Taliban from the district as part of Barack Obama's troop surge, but a recent US intelligence report warned many of the military gains made in recent years could be lost by 2017.
Although both the TTP and the Afghan Taliban pledge allegiance to Mullah Omar, the two organisations are distinct. However, they both enjoy sanctuary in Pakistan's troubled borderlands and there is considerable operational overlap between the two.
Anxiety is running high in both Pakistan and Afghanistan about whether the end of US-led combat operations in Afghanistan this year will create even more violence and instability on both sides of the border.
In recent days those concerns have been heightened by a series of particularly high-profile attacks.
In Kabul on Friday night a Taliban team assaulted a
restaurant
and killed 21 diners, including many foreigners.
On Sunday, the Pakistani army suffered one of its worst single attacks when a bomb planted on a privately hired truck preparing to shuttle frontier corps troops out of their base in the north-west town of Bannu exploded, killing 26 and injuring as many more.
Pakistan's prime minister, Nawaz Sharif, responded by cancelling a trip to the World Economic Forum in the Swiss ski resort of Davos.
Earlier in the month TTP militants killed Chaudhry Aslam, a senior Karachi policeman famous for his ruthless techniques against the rising power of the Taliban in sprawling coastal city.
And last Friday the TTP attacked a television broadcast truck, killing three employees of the Express News media, which a TTP spokesman accused of "carrying out propaganda against us".
The headline-grabbing attacks have reignited long-simmering controversy over whether Pakistan should respond to the TTP menace by fighting or talking.
Sharif is determined to negotiate even though his seven months in power has been punctuated by regular TTP attacks.
So far, all peace overtures have come to nothing. Most experts argue the strategy is doomed to fail given the TTP's extreme demands and the long history of militant groups breaking peace accords.
But leading opposition leader Imran Khan has kept up the pressure, remaining adamant that peace will come if the country disassociates itself from US military operations in Afghanistan.
On Sunday a TTP spokesman, Shahidullah Shahid, said the movement was ready for "sincere and meaningful talks". But he also repeated preconditions for talks which the government would find impossible to implement, including an end to US drone strikes and a withdrawal of all soldiers from the tribal areas.
His remarks came just hours after the Bannu attack, which will have infuriated an army already horrified by the government's stubborn veto against a major counterterror crackdown.
The army has long wanted to conduct a major operation in North Waziristan, a tribal area bordering Afghanistan that is largely controlled by al-Qaida-linked militant groups. But Sharif and Khan insist talks must be attempted first.
Shaukat Qadir, a retired Pakistani army officer, said the military's patience would not last indefinitely.
"Killing 20 troops in one go is a bit much for them to swallow," he said. "Eventually someone is going to say enough is enough."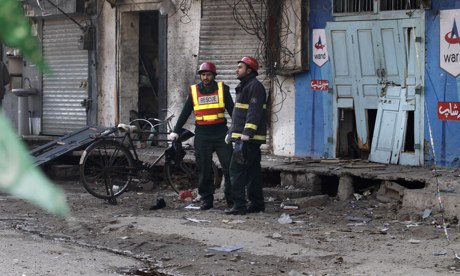 Read the whole story
· · · · ·
Iran has been given a late invitation to this week's Syria peace conference, UN leader Ban Ki-moon says.

Views: 1

0 ratings

Time: 01:15
More in News & Politics
In an exclusive interview with AFP, Syrian President Bashar Al-Assad has said that the "war on terror" must be the focus of Geneva II and there was "signific...

Views: 0

0 ratings

Time: 01:33
More in News & Politics
Violent clashes have broken out between demonstrators and police in the Ukrainian capital Kiev. . Report by Sophie Foster.

Views: 0

0 ratings

Time: 01:23
More in News & Politics
Next Page of Stories
Loading...
Page 4