Next Page of Stories
Loading...
Page 2
Next Page of Stories
Loading...
Page 3
Next Page of Stories
Loading...
Page 4
Next Page of Stories
Loading...
Page 5
WASHINGTON -- A court in Uzbekistan today sentenced the brother of an RFE/RL journalist to 8 years in prison on drug-related charges, the latest government action involving persons affiliated with the media company's Uzbek Service. In court proceedings, Aziz Yusupov was represented by a lawyer assigned to him by Uzbekistan's National Security Service (formerly the KGB), whom Yusupov's family said persuaded him to make a false confession to mollify the court. During the one-day trial, no evidence was brought against Yusupov to corroborate the charges. "This has all the signs of an attempt by the government to intimidate RFE/RL journalists because of their uncensored reporting in Uzbekistan," said RFE/RL President Thomas Kent. "We vigorously condemn any attempt to silence us." Yusupov told RFE/RL that the charges brought against him were changed several times during the series of interrogations that preceded the trial in order to increase the severity of the sentence he could serve. Yusupov was targeted in an earlier incident in March 2013, when state security agents confiscated his state-issued ID, computer, and other personal documents, citing his brother's work for RFE/RL and an interview Yusupov gave to its Uzbek Service. During their interrogations of Yusupov, Uzbek agents accused RFE/RL of slandering Uzbekistan. Uzbekistan frequently brings narcotics-related charges against political activists and critics. In 2008, Uzbek Service contributor Salijan Abdurahmanov was sentenced to 10 years in prison on charges of drug smuggling that the OSCE characterized as "made-up," adding that the trial "did not withstand the scrutiny of a fair procedure." In another incident this week, agents with Uzbekistan's National Security Service seized an apartment in Tashkent owned by the director of RFE/RL's Uzbek Service. Uzbekistan authorities have interrogated the family members of other RFE/RL employees in recent months about their relatives' journalistic work. On at least four occasions, family members of Uzbek Service correspondents have also been denied exit visas, a Soviet practice still required in Uzbekistan, to leave the country. RFE/RL's Uzbek Service relies on constant innovation and a wide network of local sources to report news and engage with audiences in one of the world's most closed societies. RFE/RL was forced by the Uzbek government to close its bureau in the Uzbek capital of Tashkent, after reporting on the 2005 government killing of protesters in the city of Andijon. Despite government efforts to block access, the Service's website averages more than 2 million visits per month, and its video reports are viewed more than 4 million times per month on YouTube.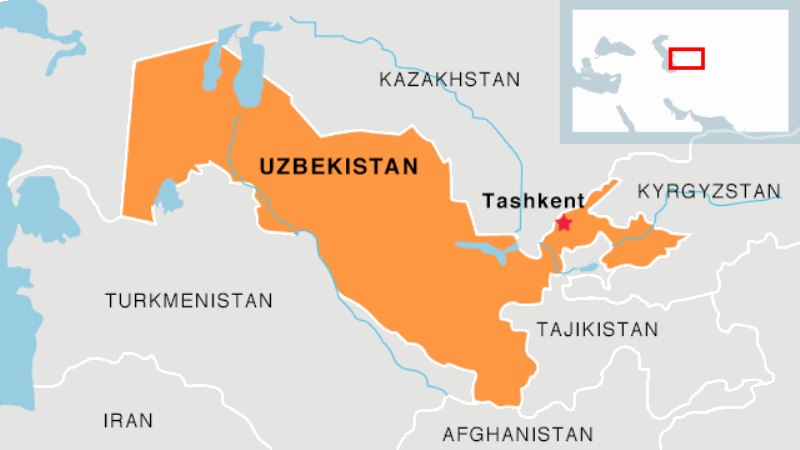 executed up to 20 Kurdish Islamists suspected of attacks on security forces, drawing condemnation from rights groups the convictions may have been based on forced confessions.
The Russian military that Syrian militants used a toxic agent against civilians in Aleppo, killing seven and sickening another 23 people.
In Moscow, the Republican seems Russia-friendly, but disconcertingly unpredictable.
Read the whole story
· · ·
With less than 100 days until Election Day, a Times foreign correspondent sets out to explain the American presidential race to a global audience.
Next Page of Stories
Loading...
Page 6
Next Page of Stories
Loading...
Page 7
Next Page of Stories
Loading...
Page 8
BANGKOK (AP) -- The rest of the world may think Americans eat a lot of burgers, have huge shopping malls and are ruled by an arrogant government. And yet the "Ugly American," it would seem, isn't all bad. Americans are also seen from afar as generous tippers, friendly, uncomplicated, rich and the standard bearers of freedom, equality, creativity and technological power....
Police were investigating the motive of a 19-year-old man who killed one woman and injured five other people in a stabbing spree, just hours after security was bolstered on the U.K. capital's streets.
An adviser to Donald Trump criticized United States policy toward Russia in a July trip to Moscow, the
Huffington Post
reported Tuesday. The trip came the week before the Trump campaign reportedly worked to soften language in the Republican party platform regarding U.S. support for Ukraine against Russian aggression.
"Washington and other Western capitals have impeded potential progress through their often hypocritical focus on ideas such as democratization, inequality, corruption, and regime change," Trump adviser Carter Page said in a speech at a graduate school in Moscow in July, according to Huffington Post.
He also called for the U.S. to lift sanctions on Russia that were put in place after the annexation of Crimea.
Trump campaign chair Paul Manafort, who has
advised
pro-Russian Ukrainian leader Viktor Yanukovych, has denied that the campaign tried to change the platform, and there's no evidene that Page was involved.
This all comes as Trump has praised Russian Leader Vladimir Putin, suggested he won't support NATO allies, said he would look into recognizing the Russian annexation of Crimea, and called for a better relationship with Russia.
Page has investments in the Russian energy giant Gazprom, and consults businesses looking to work with Russian entities, according to the Huffington Post. And he told
Bloomberg News
in March that U.S. sanctions on Russia have hurt his business.
"So many people who I know and have worked with have been so adversely affected by the sanctions policy," Page told Bloomberg in March. "There's a lot of excitement in terms of the possibilities for creating a better situation."
In his July speech in Moscow, Page said that if the U.S. were to lift sanctions on Russia, American companies could begin to work with Russian entities in the oil business, according to the Huffington Post.
Trump has
denied
that he has any business investments in Russia, but he has yet to address whether Russian businesses entities are invested in his projects.
Next Page of Stories
Loading...
Page 9