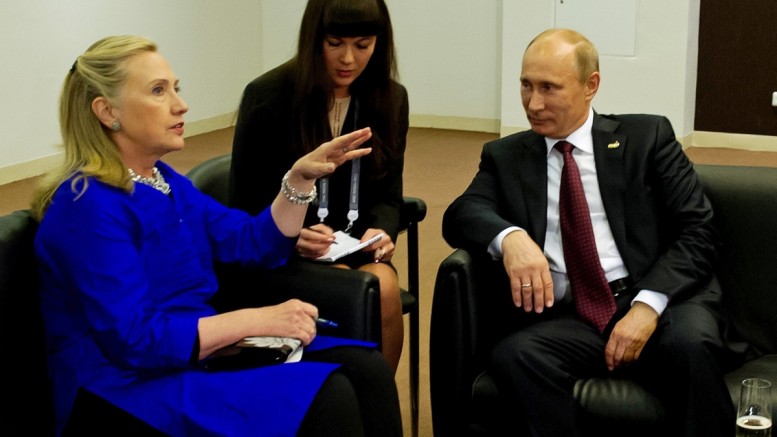 9.19.16 Mo


Next Page of Stories
Loading...
Page 2
Next Page of Stories
Loading...
Page 3
Next Page of Stories
Loading...
Page 4
WASHINGTON (AP) -- The U.S. government has mistakenly granted citizenship to at least 858 immigrants who had pending deportation orders from countries of concern to national security or with high rates of immigration fraud, according to an internal Homeland Security audit released Monday....
US and Russia trade accusations over who is to blame as airstrikes continue and aid convoys remain blocked by Syrian troops
With no aid delivered, fresh airstrikes and little sign of a mooted joint control room, the Russian-US ceasefire in Syria appears to be falling apart a week after it began.
However, both Washington and Moscow were on Monday clinging on to hope that the latest effort to end the Syrian war could gain a solid footing, despite trading bitter accusations about who is to blame.
Continue reading...
In every corner of the world, governments are failing to recognize the full implications of their policies, and experts are too confused, or inappropriately influenced, to provide clear and credible guidance. The result is a mixture of hubris and cluelessness that is consuming countries' entire political establishments.
"The Russians may be willing to try and keep the ceasefire process alive, but with signs that fighting has begun to escalate, Moscow may also conclude that further diplomatic effort at this point are meaningless."
Why are we surprised that the ceasefire brokered between the United States and Russia as a way to end (or at least suspend) the fighting in Syria is unraveling? Washington and Moscow may use the same diplomatic language in crafting joint statements, but they often operate on very different interpretations.
For the American side, the recent cease-fire effort was an attempt to show that Washington, despite its continued unwillingness to escalate its involvement in the Syrian morass, that it has not ceded the initiative on Syria to Russia (and by extension, Iran). U.S. diplomatic power would bring about a temporary cessation of hostilities, allow for the provision of humanitarian assistance to opposition-controlled parts of Syria that are increasingly being squeezed between the Syrian government and the forces of the Islamic State, and perhaps even get a political process started that might, in the long run, validate the Obama administration's demand that "Assad must go."
Suffice it to say, none of the above were critical concerns to the Kremlin. But Moscow's willingness to engage Secretary of State John Kerry's push for a diplomatic process was grounded in the Kremlin's assumption that, perhaps the United States was taking its first gingerly steps down the same road as Turkey's president Recep Tayyip Erdogan: the grudging recognition that Bashar al-Assad was no longer the primary threat in the Syria conflict. While humoring Washington's continued insistence that Assad's departure from power at some unspecified date in time must still be part of any deal, Foreign Minister Sergei Lavrov and his team believed that the U.S. had accepted the reality of Assad's presence for the foreseeable future.
Read full article
Obama seems to be trying to have it both ways, getting what he can without exposing himself too much.
While Secretary of State John Kerry deserves credit for his determination to seek a diplomatic resolution to the Syria crisis—and for his political courage in negotiating with Moscow to get there—America's Syria policy continues to amass self-inflicted wounds that make a very tough problem even harder to address. With four months remaining in President Barack Obama's final term in office, the president seems increasingly likely to bequeath this tragic mess to his successor, notwithstanding his apparently reluctant tolerance of Kerry's effort to salvage Obama's legacy. At this point, however, Kerry's determination and courage won't be enough—Mr. Obama must make some tough decisions about the situation he leaves behind on January 20, 2017.
U.S. airstrikes that apparently killed at least sixty Syrian government soldiers, and which Washington now acknowledges, make the latest tenuous effort at a ceasefire/humanitarian access arrangement much more difficult to implement.
First, the strikes further poison an already profoundly mistrustful relationship between the United States and Russia, two essential participants in any settlement. Russia's Foreign Ministry was unusually harsh in reacting to the incident, accusing U.S. pilots of conduct "
on the boundary between criminal negligence and connivance with Islamic State terrorists
." Vitaly Churkin, Russia's Permanent Representative at the United Nations, described it as "quite significant, and frankly suspicious" that the attack would happen when it did, implying an American effort to undermine the current agreement, which envisions coordinated U.S.-Russian strikes against the so-called Islamic State in Iraq and Syria (ISIS) following a seven-day cease fire and access for humanitarian assistance convoys.
Read full article
Next Page of Stories
Loading...
Page 5
Next Page of Stories
Loading...
Page 6
Next Page of Stories
Loading...
Page 7
Next Page of Stories
Loading...
Page 8
-