Fred Astaire - I Won't Dance, from Roberta
Rex Tillerson: Lavrov won't dance: not allowed!
"But it was at lunch that he won applause. After one minister spoke of taking a two-tier approach with Russia, adding that "it takes two to tango," Tillerson responded: "Sure, you can dance with Russia and you might also gain something out of it.
But for sure you cannot tango with [Sergey] Lavrov because he is not allowed to dance that one.
" The implication, diplomats said, was that only one man is in charge in Russia."
Jane Monheit and Michael Buble - I Won't Dance
A duet by Jane Monheit and Michael Buble from the album,
Taking a Chance on Love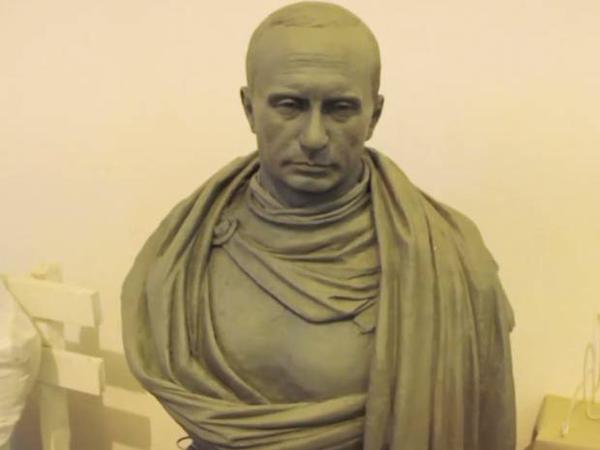 Putin Rex
Putin Rex: "Who said so? Not true! Fake news! Sergey, march down to the dance floor and start dancing right away! That's an order! Maybe, it will lead to romance... Well, I am not asbestos, after all. And you know, Rex, I'll tell you, between us, two Rexes: it's a real hard job I have: I have to tell them everything! No initiative! Not like in your America, where you have too much of all sorts of, khe-khe, different initiatives, so to speak... Well, fly over here to Moscow, my dear boy, I'll give you another Order of Friendship for your good efforts to tango, as from the real Rex to another real Rex!
"Lavrov, did you hear me? Stop tinkering with you answering machines, go to the floor and do your pa de deux!"
Lavrov: "No, I won't!"
Putin Rex: "Why?"
Lavrov: "No, I can't!"
Putin Rex: "But why?!"
Lavrov: "I don't have good dancing shoes. I can't buy them because of the sa
nctions! And then, I am really afraid, it might lead to a romance. And I am not sure that Rex will be here six months from now, or even sooner. My heart will be broken again, and I will be all alone and by myself..."
Putin Rex: "Don't you worry, Serzhik, mataggim, we'll find you another Rex, and the better equipped one, too, with the nice, powerful underwater drill; he'll dance real well when I order the music. Putin Rex is the one and only, but there are all sorts of other little Rexes out there. Just like all sorts of trumps, pages, tillers' sons, and all sorts of other farmers and puzders.
If not one, then another. What difference does it make? We pay them all anyway, they all are in our pocket.
Go dance, stupid! And whisper something sweet into his dead ears about the sanctions and Crimea! And push all the right buttons under his suit, you know how to do this if you really want to, don't play this little innocent schoolboy here.
Не грузи, перезагружай!"
Facing a skeptical crowd of fellow foreign ministers during his first visit to NATO,
Rex Tillerson
won applause for lunchtime remarks about the need for strength and unity in dealing with Russian President Vladimir Putin, five diplomats who were in the room told POLITICO.
The U.S. Secretary of State initially planned to skip Friday's meeting in Brussels, citing a conflict with a visit to Washington by Chinese President Xi Jinping. That caused consternation among allies, prompting NATO Secretary-General Jens Stoltenberg to reschedule so that Tillerson could attend.
Still, ministers were not sure what to expect from the former chief executive of Exxon Mobil, now working for a president who called NATO "obsolete" during his campaign.
U.S. Secretary of Defense James Mattis and Vice President Mike Pence, visiting its Brussels headquarters in February, carried Donald Trump's demand that
allies increase military spending
. But both were already somewhat familiar to diplomats — Mattis from his time as a NATO uniformed commander and Pence from his long service in the U.S. Congress.
Tillerson, by contrast, had never worked in public service and his reported close ties to Putin and Russia, where Exxon has invested billions of dollars in oil projects, added to NATO diplomats' wariness.
But the Secretary of State appeared to have sounded the right notes, expressing unwavering support for NATO.
"The U.S. commitment to NATO is strong and this alliance remains the bedrock for transatlantic security," he said.
"The United States is committed to ensuring NATO has the capabilities to support our collective defense," he said. "We understand that a threat against one of us is a threat against all of us, and we will respond accordingly."
"The president supports NATO. The U.S. Congress supports NATO," Tillerson said.
But it was at lunch that he won applause. After one minister spoke of taking a two-tier approach with Russia, adding that "it takes two to tango,"
Tillerson responded: "Sure, you can dance with Russia and you might also gain something out of it. But for sure you cannot tango with [Sergey] Lavrov because he is not allowed to dance that one." The implication, diplomats said, was that only one man is in charge in Russia.
NATO Secretary-General Jens Stoltenberg, U.S. Secretary of State Rex Tillerson and British Foreign Secretary Boris Johnson pose for the family photo in Brussels
Asked how Tillerson was received, one European NATO ambassador said: "With an ovation, I mean it literally. This is not metaphorically speaking. He actually got applause."
"I'll be honest, we didn't know what we were getting into," the ambassador said, adding: "Boy, did he deliver: he was very, very clear about the United States standing by its allies. In fact, unlike Mattis, who if you remember conditioned his support for the alliance, Tillerson's support was unconditional."
"He said, 'we stand by our friends, we stand by Article 5, no ifs or buts.'"
Read the whole story
· · ·
Как информирует
Цензор.НЕТ
, об этом пишет
Голос Америки.
Сообщается, что один из дипломатов, заявил, что по отношению к России необходимо применить "двухуровневый подход", а для танца "необходима пара".
В ответ на это Тиллерсон сказал: "Конечно, что с Россией можно танцевать и даже что-то с этого получить. Но с Сергеем Лавровым точно не потанцуешь, потому что ему запрещено танцевать".
Читайте на "Цензор.НЕТ": Высказывания Тиллерсона о российской агрессии вызывают недоумение, - МИД РФ
Отмечается, что его слова сорвали овации у министров иностранных дел НАТО.
"Он сорвал овации, в буквальном смысле. Это не метафора. Ему аплодировали", - заявил один из дипломатов.
"При этом имелось в виду, что все решения в России принимает лично Путин", - пишет Голос Америки.
Напомним, в ходе своего первого визита в штаб-квартиру НАТО Тиллерсон также заявил о российской агрессии в Украине, а также о сохранении санкций против России.
Read the whole story
· · ·
Сегодня ночью в Сочи во время встречи экс-президента Украины Виктора Януковича с президентом России Владимиром Путиным и премьер-министром РФ Дмитрием Медведевым произошла ссора.
Об этом изданию
"ГОРДОН"
сообщил собственный источник.
В результате ссоры Янукович "избил Медведева и дважды ударил по лицу Путина". После этого подоспевшие охранники ранили экс-президента Украины в ноги.
Причина ссоры неизвестна. По данным источника, во время встречи в Сочи Янукович был "сильно выпивший".
Янукович был избран президентом Украины в 2010 году. 22 февраля 2014 года, после трех месяцев протестов на Майдане,
Верховная Рада признала его самоустранившимся от должности и не выполняющим свои обязанности
, после чего были объявлены новые президентские выборы. В том же месяце Янукович покинул Украину, сейчас
с семьей проживает в России
.
В

Украине против него открыто несколько уголовных производств. Его обвиняют в массовых убийствах граждан, завладении государственным имуществом, захвате власти неконституционным путем, действиях, направленных на свержение конституционного строя. В отношении экс-президента

применяется процедура заочного осуждения.
Пользователи социальных сетей с юмором встретили такое сообщение. "Фантомас кагбе разбушевался. Очень смешно"," батя! За шо?", "а шапки украл?", - пишут люди в комментариях.
Фото: gordonua.com
Теги:
Донбасс
,
Путин
,
Сочи
,
стрельба
,
ранение
,
драка
,
Медведев
,
Янукович
Next Page of Stories
Loading...
Page 2
CANTON, Ohio (Tribune News Service) — In the span of about an hour, Army reservist Tres Peterson bought a gun, drove to his ex-fiancee's home, fatally shot her, her mother, a family friend and their family dog, then turned the gun on himself.
Police Chief Bruce Lawver said Thursday's triple homicide and suicide at 529 Smith Ave. NW remains under investigation.
"We're seeing no background of any type of violent behavior between the two of them ... It's very shocking to everybody in the community," Lawver said.
Police were called shortly after 1:30 p.m. Thursday to the yellow, two-story home where four people were found dead.
Peterson, 21, of Massillon, had lived there, too, for a couple of months while he was engaged to Cheyenne Calderon, according to police. Her Facebook page said they were engaged Jan. 31. Police said the couple split about a week ago.
Calderon, who was 20, lived there with her 3-year-old son; her mother, Kelly Freshour, 50; Freshour's friend, Timothy Keyser, 70; and Calderon's brother and sister-in-law, who weren't home Thursday at the time of the shootings.
An hour earlier, Peterson had purchased a TP9SA 9mm handgun from a retail store in the Belden Village area that sells firearms, said Detective Bill Adams, lead investigator on the case.
"Tres Peterson, at the time, did nothing wrong," Adams said. "He was a legitimate citizen, and the store conducted the appropriate checks by law, and he passed them. He had no offense tied to an assault or crime of violence."
Adams said the process, which was legal, takes about 45 minutes. Peterson purchased the gun at 12:31 p.m.
At 1:15 p.m., Calderon and a friend of hers saw Peterson walking near the house on Smith. Calderon called her brother and sister-in-law, Lawver said, to warn them. They told Calderon they were almost back home.
They didn't make it in time to save the family.
Shortly after 1:30 p.m., Calderon was in the kitchen with the family's Siberian husky when Peterson walked up to the kitchen door and opened fire, Lawver said.
"The dog ... was right at the door when the door was opened," Lawver said. "He could've just been a target of opportunity that was right there when Peterson came in."
Calderon ran from the kitchen, through the dining room and into a first-floor bedroom, where her mother and Keyser were located, Lawver said.
Peterson chased her, shooting, and killed all three inside the bedroom.
Lawver said Peterson returned to the dining room and killed himself.
During the gunfire, Calderon's friend, Brandon Posey, who was in the living room, grabbed Calderon's son and ran out of the house, the chief said. They escaped unharmed.
Posey called for help, and Calderon's brother and sister-in-law arrived. They were carrying guns and possessed conceal-carry permits, said Capt. David Kurzinsky, who heads the Detective Bureau.
They "went back in to extinguish the situation and to see whether anyone was still alive," Lawver said.
It was too late.
Mayor Thomas Bernabei, speaking at a news conference Friday, categorized the event as "tragic and senseless, and an act, based on what we know at this time, that was totally unpredictable."
"(Calderon's) brother told us that Peterson never demonstrated physical violence or threatening behavior toward her," Lawver said.
Peterson graduated from Washington High School in 2015. His Facebook profile indicates he worked in human resources for the U.S. Army Reserve and as a stocker at Wal-Mart.
Adams said detectives spoke to Peterson's 1st Sergeant at the Army Reserves, where Peterson was an active member with administrative and clerical duties. Peterson was working toward becoming a full-time reservist.
"There were no disciplinary problems. He was a model soldier. He was well-liked, very quiet," Adams said he was told.
Stark County court records show Peterson was charged in December 2015 with telecommunications harassment, but the charge was reduced to disorderly conduct.
Court documents filed in the case say a woman told police Peterson was "constantly harassing" her via telephone and social media for several weeks. She had told Peterson she didn't want him to contact her, and the Massillon Police Department had told him to stop, but he continued. Peterson was fined $100 and ordered to have no contact with the victim. The fine was paid in full in March 2016, and there are no other entries on the docket.
Calderon's grandparents have custody of her child, Lawver said. Police also removed three dogs and two cats from the home.
Autopsies on the victims are expected to be completed Monday.
A gofundme account has been started to cover the costs of the funerals for the three victims and Calderon's son.
On another Facebook profile, this one called "The Tres Peterson Fan Club," a post dated 12:45 p.m. Thursday — about 15 minutes after Peterson purchased the gun — read "Peace out to all my fans love you guys." Another post on the page, from February and from Calderon's profile, read "Can't wait to be Mrs. Tres Peterson" and gave a wedding date of March 25.
———
©2017 The Repository, Canton, Ohio
Visit The Repository, Canton, Ohio at <a href="http://www.cantonrep.com" rel="nofollow">www.cantonrep.com</a>
Distributed by Tribune Content Agency, LLC.
Read the whole story
· · · · ·
Near the top of President Trump's enemies list, along with the United States Court of Appeals for the Ninth Circuit and Nordstrom, are the leakers who fuel his "running war" with the media. "These leakers, they are disgusting," he said last week. "These are horrible people." These "low-life," "criminal" blabbermouths, he vowed on Twitter, "will be caught!"
A leaky White House is not the only consequence of Mr. Trump's chaotic management style, and maybe not even the most important. Mr. Trump's cabinet officers are having a terrible time getting their departments up and running — and building their own leadership teams — in part because they are having to deal with a small army of 500 Republican advisers, lobbyists and itinerant campaign workers appointed by the White House to oversee the transition from one administration to the other.
There may be a 100-day housecleaning in the works, according to leaks from several Republicans close to the White House (who hope their rivals will be among the first to go). But this may be wishful thinking. Mr. Trump seems to enjoy the confusion and intrigue that occurs when staffers with hazy roles — or, like Mr. Benton, few qualifications — scrap over turf and vie for his attention.
This is a man, it must be remembered, who seems happiest when jetting from one red-state rally to another, and who seems to greatly prefer campaigning to actually governing.
Continue reading the main story
Read the whole story
· · ·
Published on Mar 31, 2017
Former FBI agent Clint Watts says the mysterious deaths of eight prominent Russians could be linked to Russia's interference in the US elections. CNN's Elise Labott reports.
Next Page of Stories
Loading...
Page 3
Next Page of Stories
Loading...
Page 4
Next Page of Stories
Loading...
Page 5
Next Page of Stories
Loading...
Page 6
Next Page of Stories
Loading...
Page 7
Next Page of Stories
Loading...
Page 8
-