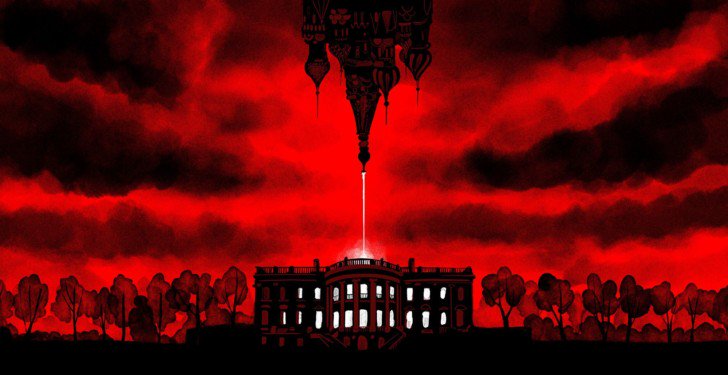 "...the master narrative of Trump's ascent—a way to explain the presence of a man who is so alien and discomforting to so much of the population by rendering him in some way foreign. In truth, he is a phenomenon of America's own making."
http://www.newyorker.com/magazine/2017/03/06/trump-putin-and-the-new-cold-war?mbid=social_twitter
Putin was not interested in keeping the operation covert, Albats said. "He wanted to make it as public as possible. He wanted his presence to be known," and to "show that, no matter what, we can enter your house and do what we want."
...
For many national-security officials, the e-mail hacks were part of a larger, and deeply troubling, picture: Putin's desire to damage American confidence and to undermine the Western alliances—diplomatic, financial, and military—that have shaped the postwar world.
... Valery Gerasimov, the Russian chief of general staff, published an article with the anodyne title "The Value of Science in Prediction." The article identified and urged the adoption of a Western strategy that involved military, technological, media, political, and intelligence tactics that would destabilize an enemy at minimal cost. The strategy, which came to be known as "hybrid war," was an amalgam that states have used for generations, but the text took on the status of a legend, and is now known in international military circles as the Gerasimov doctrine.
Gerasimov is sixty-one years old, and is always photographed in a stiff, forest-green military uniform and with a perpetually sagging frown. He trained as a tank commander, and then climbed the military hierarchy; he led the Fifty-eighth Army during the Second Chechen War. In the article for Military-Industrial Courier, Gerasimov suggested that, in the future, wars will be fought with a four-to-one ratio of nonmilitary to military measures. The former, he wrote, should include efforts to shape the political and social landscape of the adversary through subversion, espionage, propaganda, and cyberattacks. His essay, written in the shadow of the Arab Spring, cited the anarchy and violence that erupted in Libya and Syria as proof that, when faced with the combination of pressure and interference, a "perfectly thriving state can, in a matter of months, and even days, be transformed into an arena of fierce armed conflict, become a victim of foreign intervention, and sink into a web of chaos, humanitarian catastrophe, and civil war."
...
Even with the rise of new technologies, the underlying truth about such operations hasn't changed. They are less a way to conjure up something out of nothing than to stir a pot that is already bubbling. In the U.S., a strategy like the alleged hacking of the Democrats was merely an effort to deepen an existing state of disarray and distrust. "For something to happen, many factors have to come together at once," said Alexander Sharavin, the head of a military research institute and a member of the Academy of Military Sciences, in Moscow, where Gerasimov often speaks. "If you go to Great Britain, for example, and tell them the Queen is bad, nothing will happen, there will be no revolution, because the necessary conditions are absent—there is no existing background for this operation." But, Sharavin said, "in America those preconditions existed."
...
The interim chair of the D.N.C., Donna Brazile, had worked on seven Presidential campaigns, but she was unprepared for the level of anger, including death threats, directed toward D.N.C. staff and donors. "I'm from the South, and I've been through the traditional kind of campaigns where everybody got to call you the N-word, the B-word, or the C-word," she said. "But this was not the usual kind of antipathy that you find in American politics. It was something else." Someone created a fake e-mail account in her name and sent messages to a reporter at the Times. "It was psychological warfare at its best," she said. (CNN, where Brazile had been a commentator, cut ties with her when hacked e-mails revealed that, after attending network strategy sessions, she shared potential debate questions with the Clinton campaign.)
While officials in the Obama Administration struggled with how to respond to the cyberattacks, it began to dawn on them that a torrent of "fake news" reports about Hillary Clinton was being generated in Russia and through social media—a phenomenon that was potentially far more damaging. "The Russians got much smarter since the days of rent-a-crowds and bogus leaflets," one Obama Administration official said. "During the summer, when it really mattered, when the Russian social-media strategy was happening, we did not have the whole picture. In October, when we had it, it was too late."
...
A post-election study by two economists, Matthew Gentzkow, of Stanford, and Hunt Allcott, of New York University, found that, in the final three months of the campaign, fabricated pro-Trump stories were shared four times as often as fabricated pro-Clinton stories. The researchers also found that roughly half the readers of a fake-news story believed it. A study led by Philip N. Howard, a specialist in Internet studies at Oxford University, found that, during the second debate of the general election, automated Twitter accounts, known as "bots," generated four tweets in favor of Trump for every one in favor of Clinton, driving Trump's messages to the top of trending topics, which mold media priorities. Internet researchers and political operatives believe that a substantial number of these bots were aligned with individuals and organizations supported, and sometimes funded, by the Kremlin.
...
The Clinton campaign was making plenty of tactical errors, without foreign assistance, and Trump was reaching white working-class voters far more effectively than the media recognized.
...
On Friday, October 28th, the F.B.I. director, James Comey, announced that new e-mails from Clinton had surfaced, in an unrelated case. Podesta said, "It's not until that Friday, eleven days out, that you see a major movement of public opinion. The group in the electorate that was moving around the most was non-college-educated women. I think particularly the pushing of the fake news in the last couple of weeks was important in the places that mattered. When you lose by a total of seventy thousand votes in three states, it's hard to say if any one thing made the difference. Everything makes a difference. I think it definitely had an impact. The interaction between all of this and the F.B.I. created a vortex that produced the result."
...
No reasonable analyst believes that Russia's active measures in the United States and Europe have been the dominant force behind the ascent of Trump and nationalist politicians in Europe. Resentment of the effects of globalization and deindustrialization are far more important factors. But many Western Europeans do fear that the West and its postwar alliances and institutions are endangered, and that Trump, who has expressed doubts about nato and showed allegiance to Brexit and similar anti-European movements, cannot be counted on. Although both Secretary of State Rex Tillerson and Defense Secretary James Mattis have expressed support for traditional alliances, Trump remains entirely uncritical of Putin. "Trump changes the situation from a nato perspective," General Shirreff said. "The great fear is the neutering of nato and the decoupling of America from European security. If that happens, it gives Putin all kinds of opportunities. If Trump steps back the way he seemed to as a candidate, you might not even need to do things like invade the Baltic states. You can just dominate them anyway. You're beginning to see the collapse of institutions built to insure our security. And if that happens you will see the re-nationalizing of Europe as a whole."
...
"

How long will Angela Merkel hold out against Donald Trump?" Stephen Sestanovich, who was an adviser on Russia to both the Reagan and the Clinton Administrations, asked. "She is already by herself in Europe. Putin is going to look like the preëminent power in Europe." Der Spiegel published a startling editorial recently that reflected the general dismay in Europe, and the decline of American prestige since Trump's election. The new President, it said, is becoming "a danger to the world" that Germany must stand up in opposition to.
Strobe Talbott, the former Clinton adviser, said, "There is a very real danger not only that we are going to lose a second Cold War—or have a redo and lose—but that the loss will be largely because of a perverse pal-ship, the almost unfathomable respect that Trump has for Putin." Talbott believes that Trump, by showing so little regard for the institutions established by the political West in the past seventy years, is putting the world in danger.
...
The Russians see friendly faces in the Administration. Tillerson, as the chairman of ExxonMobil, did "massive deals in Russia," as Trump has put it. He formed an especially close relationship with Igor Sechin, who is among Putin's closest advisers, and who has made a fortune as chief executive of the state oil consortium, Rosneft. Trump's first national-security adviser, Michael Flynn, took a forty-thousand-dollar fee from the Russian propaganda station RT to appear at one of its dinners, where he sat next to Putin.
...
The Obama Administration, in its final days, had retaliated against Russian hacking by expelling thirty-five Russian officials and closing two diplomatic compounds. The Kremlin promised "reciprocal" punishment, and American intelligence took the first steps in sending new officials to Moscow to replace whoever would be expelled. "People were already on planes," a U.S. intelligence official said. But on December 30th Putin said that he would not retaliate. To understand the abrupt reversal, American intelligence scrutinized communications involving Sergey Kislyak, Russia's Ambassador to the U.S., and discovered that Flynn had had conversations with him, which touched on the future of economic sanctions. (Jared Kushner, Trump's son-in-law, met with Kislyak in Trump Tower during the transition; the aim, according to the White House, was to establish "a more open line of communication in the future.") Flynn was forced to resign when news broke that he had lied to Vice-President Mike Pence about these exchanges.
...
The working theory among intelligence officials involved in the case is that the Russian approach—including hacking, propaganda, and contacts with Trump associates—was an improvisation rather than a long-standing plan. The official said, "After the election, there were a lot of Embassy communications"—to Moscow—"saying, stunned, 'What we do now?' "
and as the Investigative Hypothesis
Alexey Venediktov, the editor-in-chief of Echo of Moscow, and
a figure with deep contacts inside the Russian political élite, said, "Trump was attractive to people in Russia's political establishment as a disturber of the peace for their counterparts in the American political establishment." Venediktov suggested that, for Putin and those closest to him, any support that the Russian state provided to Trump's candidacy was a move in a long-standing rivalry with the West; in Putin's eyes, it is Russia's most pressing strategic concern, one that predates Trump and will outlast him. Putin's Russia has to come up with ways to make up for its economic and geopolitical weakness; its traditional levers of influence are limited, and, were it not for a formidable nuclear arsenal, it's unclear how important a world power it would be. "So, well then, we have to create turbulence inside America itself," Venediktov said. "A country that is beset by turbulence closes up on itself—and Russia's hands are freed."
♦
______________________________________________
See also:
Information war | Psychological war
Hybrid war as the Russian Military-Intelligence-Political Strategy
Russian General Staff | and Russian Military Intelligence | and Shoigu
Korobov and Gerasimov | Shoigu, Gerasimov, Korobov
Weiner - Abedin emails, FBI, Elections - 2016
USA, Russia, Germany
Trump and Russia | Trump and Putin
2016 US Presidential Elections
Elections - 2017 as Russian Intelligence Operation | Elections - 2017 as German Intelligence Operation | Elections - 2017 as German - European Intelligence Operation | Elections - 2017 as German - Russian Intelligence Operation
Trump - Russia Turbulence Theory
Trump and Russia | Trump and Putin
Igor Sechin, Tillerson, and Trump
_________________________________________________
"The World Bank has estimated that Russia's mineral resources are worth an estimated $75 trillion. For the most part, however, Russia lacks the technology and the capital to bring these reserves into production. The overall size of the Russian economy was $1.2 trillion in 2015. Adjusted for purchasing power parity (PPP), this is equivalent, in US dollars, to a $3.5 trillion economy. This puts the Russian economy at one-fifth the size of the U.S. economy and less than one-tenth the size of the combined American-EU economic turnover, even after adjusting for PPP. Simply put, over the long-term, and especially during periods of low oil prices,
Moscow simply does not have the economic base to mount a serious military challenge to the United States and its allies...
It is doing everything it can, from accumulating strategic chips in the Middle East to supporting, and even financing, some of the anti-EU rightwing parties in Europe calling for an end to Russian sanctions, to improve its bargaining position with the West. Ultimately, Moscow is banking that a new administration in Washington will give it a way out of the hole it has dug itself into. We have no reason to do this. Putin's hand is growing weaker, not stronger. Time favors the West.
That doesn't mean that there aren't areas where United States-Russian cooperation makes sense.
Nuclear arms control is an obvious choice. Both countries are about to embark on a multi-billion dollar, "upgrade cycle." An accord to reduce each side's stock of nuclear weapons before the money is spent to upgrade them makes a lot of sense–especially for Moscow who doesn't have the money to finance such an upgrade cycle.
Soviet expansionism a generation ago turned out to be little more than a cover for an economy that was rotting from corruption, cronyism and mismanagement. The Soviet Union's fate will ultimately prove to be the same outcome for Putin's Russia."
Начальник Генштаба ВС РФ генерал армии Валерий Герасимов принял участие в военно-научной конференции Академии военных наук : Министерство обороны Российской Федерации




Review - Dunford Meets Russian Counterpart on 2.16.17 in Baku

Dunford Meets Russian Counterpart to Strengthen Mil-to-Mil Contacts > U.S. DEPARTMENT OF DEFENSE > Article

Top US, Russian military officials agree on 'enhanced communications' to avoid 'unintended incidents' | TheHill

https://www.defense.gov/News/Article/Article/1085746/dunford-meets-russian-counterpart-to-strengthen-mil-to-mil-contacts#.WLAzJcBITvo.twitter

News Reviews and Opinions: » mikenov on Twitter: Top Trump envoys signal no quick changes to US-Russia ties https://t.co/I213Hqkzcs 24/02/17 10:04

News Reviews and Opinions: Начальник Генерального штаба Вооруженных Сил России провел в Баку переговоры с военным руководством Азербайджана Friday February

U.S. generals want elevated talks with Russia about Iraq and Syria operations because of aerial collision fears - The Washington Post

Generals want talks with Russia about Iraq, Syria operations because of aerial collision fears - Pittsburgh Post-Gazette

Dunford Meets Russian Counterpart to Strengthen Mil-to-Mil Contacts > U.S. DEPARTMENT OF DEFENSE > Article




Global Security - 3.4.17

Quarterly Journal: International Security - Harvard - Belfer Center for Science and International Affairs




National Security 3.4.17

National Security, Terrorism and the Military | The Latest News on National Security, Terrorism and the Military



3.4.17 - Sa
3.3.17 - F
3.2.17 - Th
The U.S. and Global Security Review: Graham to meet with FBI Director Comey | » Mike Nova's Shared NewsLinks: Graham to meet with FBI Director Comey about Russia investigation - CNN 02/03/17 12:24 | The U.S. and Global Security Review: Who is Sergey Kisl

News Reviews and Opinions: Warren, Pelosi demand AG Jeff Sessions resign over Russia meetings | Global News Podcast: Top Trump lawyer hit by Russia talks claims by BBC World Service Thursday March 2nd, 2017 at 6:53 AM | » Mike Nova's Shared NewsLinks: Se

RUSSIA and THE WEST - РОССИЯ и ЗАПАД: Trump Taps Putin Critic for Senior White House Position Foreign Policy (blog) The Trump administration has offered a well-respected scholar and sober critic of Russian President Vladimir Putin the position

Sessions met with Russian envoy twice last year, encounters he later did not disclose - The Washington Post

The U.S. and Global Security Review: M.N.: Imagining Mr. Session's train of thought and hypothetical response: "It all depends on what exactly the words "member" and "surrogate" mean, and also of which committee, how long, when, and under what circumstanc

The Daily 202: Trump's Russia headache gets worse, as Sessions struggles to spin undisclosed meetings - The Washington Post

Obama Administration Rushed to Preserve Intelligence of Russian Election Hacking - The New York Times

The U.S. and Global Security Review: Who is Sergey Kislyak, the Russian ambassador to the United States? - CNN Thursday March 2nd, 2017 at 1:10 PM

The U.S. and Global Security Review: Key G.O.P. Lawmakers Say Sessions Should Recuse Himself From Russia Inquiry Thursday March 2nd, 2017 at 10:16 AM | » mikenov on Twitter: The U.S. and Global Security Review: M.N.: Imagining Mr. Session's train of thou

Intellipedia
3.1.17 - W
Review: Trump, Russia, Media, & FBI - Last Reviewed on 2.26.17
Review: Sater, Cohen, Trump - 2.25.17

The story of the week is Trump, Russia and the FBI. The rest is a distraction | Opinion | The Guardian

Review: Trump and Media - News from 2.25.17
Trump and intelligence - 3.1.17
German Intelligence - Reviewed on 2.25.17
2.28.17 - Tu
2.27.17 - M
Recent Searches - Reviewed on 3.4.17


-
04.03.2017 (12:10)
Начальник Генштаба ВС РФ генерал армии Валерий Герасимов принял участие в военно-научной конференции Академии военных наук
Сегодня начальник Генерального штаба Вооруженных сил Российской Федерации (ВС РФ) генерал армии Валерий Герасимов принял участие в работе военно-научной конференции в Академии военных наук. Во время своего выступления он заявил, что исследование новых форм межгосударственного противоборства и разработка эффективных способов противодействия им должна стать приоритетной задачей для Академии военных наук.
«Решение актуальных задач обороны страны невозможно без их тщательной и опережающей научной проработки, – сказал генерал армии Валерий Герасимов. – Поэтому роль военной науки остается неизменно важной и востребованной практикой».
Затем он обозначил приоритетные задачи Академии военных наук.
«Прежде всего, это исследование новых форм межгосударственного противоборства и разработка эффективных способов противодействия им. Актуальной задачей является формирование сценариев, долгосрочных прогнозов развития военно-политической и стратегической обстановок в важнейших регионах мира», – продолжил начальник Генштаба.
По его словам, необходимо оперативно изучать особенности современных военных конфликтов и на их основе вырабатывать методики по действиям органов военного управления и войск в различных условиях. Отдельного исследования требует проблематика организации и осуществления перегруппировок войск на удаленные театры военных действий. Не теряют своей актуальности и общие задачи военной науки, которые требуют дальнейшей проработки.
Далее генерал армии Валерий Герасимов предложил участникам конференции обсудить проблематику современных войн и вооруженных конфликтов, их характерные черты и особенности в рамках научно-деловой программы международного военно-технического форума «Армия-2017», который пройдет в августе этого года.
«Вопрос с определением сущности войны не закрыт, он актуален и требует постоянного изучения и тщательной проработки, – сказал начальник Генштаба. – С этой целью в рамках научно-деловой программы международного военно-технического форума «Армия-2017» будет проведен круглый стол на тему «Современные войны и вооруженные конфликты: характерные черты и особенности».
По его мнению, ученые Академии военных наук должны принять самое активное участие в работе круглого стола и форума. «Необходимо продолжить работу по межведомственной стандартизации военно-политических и военных терминов и определений», – добавил начальник Генштаба.
Затем выступил президент академии генерал армии Махмут Гареев. Он отметил, что на сегодняшний день в Академии военных наук состоят 923 действительных членов, 510 членов-корреспондентов, более 2,5 тыс. профессоров. Члены академии принимают активное участие в парламентских слушаниях и научных конференциях в стране и за рубежом, в том числе по вопросам безопасности.
В прошедшем году они выполнили в интересах правительства РФ, Совета безопасности и Минобороны более 100 научно-исследовательских работ.
По результатам проведенных исследований в Генштаб ВС РФ и в Совет безопасности представлены обстоятельные доклады по оценке перспектив развития геополитической обстановки в мире, о новой системе знаний о войне, о новом характере многовекторных угроз России и организации обороны страны с целью противодействия военным и невоенным угрозам, о путях совершенствования военно-научной работы в ВС РФ.
Далее генерал армии Махмут Гареев рассказал о сотрудничестве между военными учеными России и Китая. Так, Академия военных наук РФ и Цзилинский университет Китая создали совместный центр по изучению Второй мировой войны на Дальнем Востоке.
По словам президента академии, одной из приоритетных задач военных историков является работа, направленная против фальсификаций и искажений фактов о Второй мировой войне.
Метки:
-
-
-
-