'We don't operate on innuendo' — President Obama
M.N.: That's right, Mr. President. It's the innuendos that operate on us, if we allow them.
'We don't operate on innuendo' — President Obama discusses Hillary, emails, and the FBI in an exclusive interview with NowThis
WASHINGTON —
President Obama
sharply criticized the decision by his
F.B.I.
director to alert Congress on Friday about the discovery of new emails related to the Hillary Clinton server case, implying that it violated investigative guidelines and trafficked in innuendo.
"We don't operate on incomplete information," Mr. Obama said in an interview with NowThis News, broadcast Wednesday. "We don't operate on leaks. We operate based on concrete decisions that are made."
"When this was investigated thoroughly the last time, the conclusion of the F.B.I., the conclusion of the Justice Department, the conclusion of repeated congressional investigations was that she had made some mistakes but that there wasn't anything there that was prosecutable," Mr. Obama said.
The president did not mention the F.B.I. director, James B. Comey, but it was clear Mr. Obama was referring to him.
Declaring that he had "made a very deliberate effort to make sure that I don't look like I'm meddling in what are supposed to be independent processes for making these assessments," Mr. Obama nonetheless expressed confidence in Mrs. Clinton.
"I trust her,'' he said. "I know her. And I wouldn't be supporting her if I didn't have absolute confidence in her integrity and her interest in making sure that young people have a better future.''
White House officials later downplayed Mr. Obama's remarks about the F.B.I. and insisted he had not meant to criticize Mr. Comey.
"The president went out of his way to say he wouldn't comment on any particular investigations," Eric Schultz, a White House spokesman, told reporters on
Air Force One
while Mr. Obama was en route to North Carolina to campaign for Mrs. Clinton. Mr. Schultz characterized Mr. Obama's remarks as mirroring those made in recent days by the White House press secretary, Josh Earnest, who had said that while the White House would not criticize Mr. Comey's decision to update Congress on the status of an ongoing investigation, Mr. Obama believed that rules intended to keep such investigations confidential were good ones and should be followed.
For the last several days, the F.B.I. has been analyzing emails belonging to Huma Abedin, a top adviser to Mrs. Clinton. Agents discovered the emails last month in an unrelated investigation into Ms. Abedin's estranged husband, the disgraced former congressman Anthony D. Weiner.
In a letter to Congress, Mr. Comey said those emails might be pertinent to the investigation into Mrs. Clinton's use of a private email server. Authorities concluded that case in July with no charges. But the letter, sent over the objection of the Justice Department, led to controversy because it deviated from longstanding guidelines.
Mr. Obama took a more pointed tone than his press secretary, Josh Earnest, who said on Tuesday that the White House did not have an official position on Mr. Comey's decision. Mr. Earnest referred to the Justice Department guidelines, however, and said, "The president believes that it's important for those guidelines and norms to be followed."
It is increasingly unlikely that agents will finish their work on the emails by Election Day, F.B.I. officials said. They said there was a chance they could offer updates before next Tuesday.
The renewed interest in Mrs. Clinton's emails — a matter she believed she had put behind her months ago — has exploded in the final days of the presidential campaign, with recent polls showing that the race is tightening. But Mrs. Clinton remains ahead of her Republican challenger, Donald J. Trump, in most national polls to date.
Much is unknown about the new emails, including why they were on Mr. Weiner's laptop in the first place. Ms. Abedin, through her lawyers, has adamantly denied using that laptop, which people with knowledge of the matter have said was identified in court papers as a Dell model. People with knowledge of the matter have said that the emails may have ended up on the laptop because they were inadvertently backed up or downloaded onto an older computer and then transferred from the older computer to the laptop's hard drive when the older computer was replaced.
Mr. Obama first commented publicly on the investigation last year before the F.B.I. had determined that neither Mrs. Clinton nor her aides would face charges for mishandling classified information found on the secretary of state's private email server. The president's remarks angered F.B.I. agents who said he was prejudging the investigation.
"I don't think it posed a national security problem," Mr. Obama said on "60 Minutes" on CBS in October 2015. He said it had been a mistake for Mrs. Clinton to use a private email account when she was secretary of state, but his conclusion was unmistakable: "This is not a situation in which America's national security was endangered."
Correction: November 2, 2016
An earlier version of this article gave an incorrect corporate parent for NowThis News. It is not owned by CNN; it is independently operated.
Continue reading the main story
Read the whole story
· · ·
Mike Tobin reports from Chicago
DES MOINES, Iowa —
Law enforcement officials have made an arrest in a pair of ambush-style killings of two metro police officers.
Reports indicate the suspect was captured alive in Dallas County around 9 a.m. Wednesday.
Scott Michael Greene was located in Dallas County by the Dallas County Sheriffs Office and the Iowa State Patrol.
As of 9:45 a.m., he was being transported back to Des Moines.
The Des Moines and Urbandale Police Departments identified the suspect as Urbandale resident Scott Michael Greene, 46. Greene is 5' 11" / 180 lbs with brown hair and green eyes. Greene was last known to be driving a blue 2011 Ford F-150 with Iowa license plate 780 YFR. The truck has a silver colored topper with a ladder rack.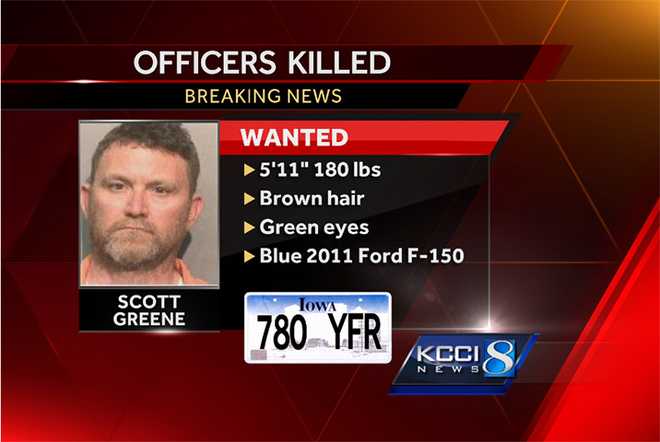 Anyone with information they would like to share regarding this investigation can contact investigators at 515-283-4869 (Des Moines Police Dept.), 515-222-3321 (WESTCOM), or submit a tip anonymously through Crime Stoppers of Central Iowa at 515-223-1400 /
www.crimestoppersofcentraliowa.com
PREVIOUSLY
Des Moines police said two police officers were shot and killed overnight, in what police describe as ambush-style attacks.
The first shooting happened at 1:06 a.m. at 70th & Aurora. An Urbandale police officer was shot and killed there.
The second shooting happened blocks away at Merle Hay & Sheridan at 1:26 a.m. A responding Des Moines police officer was shot there. He was transported to Methodist Hospital, where he died a short time later.
Des Moines police said the shootings appear to have been ambush-style attacks.
Des Moines Police Sgt. Paul Parizek said both officers appear to have been shot while sitting in their cars.
"It doesn't look like there was any interaction between these officers and whoever the coward is who shot them while they sat in their cars," said Parizek.
Urbandale Police Sgt. Chad Underwood indicated that this is the first deadly Urbandale police shooting he is aware of. He said the Urbandale department employs about 50 officers.
Parizek said the identity of both officers will be released in due time.
Parizek said there is "a clear and present danger" right now for police officers in the area, because the officers were gunned down while sitting in their cars doing nothing wrong. He said the department has doubled up its officers to better protect them.
There is a clear and present danger to police officers right now," said Parizek.
"There is clearly a danger if you're a police officer. These officers were gunned down sitting in their car doing nothing wrong, so there's definitely some danger out there. There's somebody out there shooting police officers. We hope we find him before anyone else gets hurt. We definitely don't want anyone in the public or the community to get hurt. But there is a clear and present danger to police officers right now," said Parizek.
Expect morning commute traffic delays at both shooting locations. All Urbandale schools will be closed for the day.
Stay with <a href="http://KCCI.com" rel="nofollow">KCCI.com</a>, the KCCI app and KCCI 8 News This Morning for breaking news updates.
Ben Hammes, Communications Director for Gov. Terry Branstad and Lt. Gov. Kim Reynolds released the following statement in regards to the early morning shootings involving 2 police officers:
"The governor and lt. governor have been alerted to the attacks on law enforcement this morning. Shortly after the shootings, our office was briefed by the Department of Public Safety (DPS) on the shootings. DPS is working hand in hand with local law enforcement in the investigation. We will continue monitoring and working with law enforcement in the interest of public safety.
An attack on public safety officers is an attack on the public safety of all Iowans. We call on Iowans to support our law enforcement officials in bringing this suspect to justice. Our thoughts and prayers go out to the families of the police officers who were tragically killed in the line of duty as well as the officers who continue to put themselves in harm's way."
WEBVTT >> GOOD MORNING, EVERYONE. WE ARE BRINGING YOU AN UPDATE TO THE BREAKING NEWS COVERAGE WE HAVE BROUGHT YOU ALL MORNING LONG. TWO OFFICERS WERE SHOT AND KILLED OVERNIGHT IN THE METRO. WE HAVE JUST LEARNED THAT AN ARREST HAS BEEN MADE. HAVE BEEN SEARCHING FOR A SUSPECT FOR THE PAST SEVERAL HOURS. WE HAVE LEARNED THAT SCOTT GREEN IS IN CUSTODY IN DALLAS COUNTY. >> WE HEARD THIS ABOUT 15 MINUTES AGO. THE IOWA STATE PATROL AND DALLAS COUNTY OFFICERS WERE ALL INVOLVED IN APPREHENDING HIM. WE JUST GOT TO COMPREHEND -- WE JUST GOT THE CONFIRMATION FROM THE DALLAS COUNTY POLICE. WE ARE TOLD THAT SCOTT GREEN IS IN CUSTODY IN DALLAS COUNTY. HE GIVES A LIVE AND IN CUSTODY. AT THIS POINT, WE DID NOT EXACTLY KNOW WHERE THSITUATION IS UNFOLDING. WE DO HAVE A CREW ON THE WAY TO THE SCENE. WE HAVE HEARD A COUPLE OF DIFFERENT LOCATIONS, BUT WE HAVE HEARD THAT SCOTT GREEN IS IN CUSTODY IN HOUSE COUNTY. WE DO NOT EXACTLY KNOW WHERE THIS HAPPENED, OR WHERE POLICE WERE ABLE TO FIND HIM. >> POLICE HAVE SAID ALL MORNING LONG THAT THIS IS WHO THEY WANT TO TALK TO IN CONNECTION TO THE TWO SHOOTINGS FROM OVERNIGHT. IN URBANDALE POLICE OFFICER SHOT AND KILLED, AND A DES MOINES OFFICER SHOT AND KILLED. THIS ALL HAPPENED AFTER 1:00 THIS MORNING. WE JUST RECEIVED WORD A LITTLE
Read the whole story
· · · · ·
Next Page of Stories
Loading...
Page 2
Reports that Hoover was secretly gay and a cross-dresser had been around for a long time, but that did not lead to his demise, even in those times of deep homophobia. This was despite rumours that the Mafia had compromising photographs of him with his alleged lover, his assistant Clyde Tolson, and this was one of the reasons Hoover had been so reluctant to go after organised crime.
There were many occasions when successive presidents had considered getting rid of Hoover, but none dared to sack the man who kept the secrets. "You don't fire God," was John F Kennedy's response when asked why he did not do it. Richard Nixon had backed down from an attempt to force the director's retirement, saying: "We have on our hands here a man who will pull down the temple with him, including me."
Some of what Hoover did - his reds under the beds witchhunts, his persecution of the civil rights movement - was gross abuse of power. But even J Edgar, in his 48 years in the office, did not do what James Comey, the present head of the FBI, has done - carried out a public intervention on the eve of a presidential election which may change the outcome.
Matthew Miller, who served under former US Attorney General Eric Holder, echoed the view of many law enforcement officials when he stressed: "Not even Hoover did anything publicly in the closing days of an election that could be seen as tipping the scales."
Tim Weiner, the author of a history of the FBI, had supported the appointment of Comey as director, but now sees his actions as "a blind use of the prosecutorial sword… Somewhere, tearing wings off flies in a dark star chamber in the sky, J Edgar Hoover is smiling."
Last week's announcement about Hillary Clinton's emails was not the first time that Comey has been called into question. The half dozen chiefs who followed Hoover at the FBI after his death in 1972 had deliberately kept a low profile to distance themselves from the founder's autocratic ways. The seventh and current incumbent, say American security officials, is reversing that process.
Comey, who is a registered Republican who contributed to Mitt Romney and John McCain's campaign funds, served as a deputy attorney general in George W Bush's administration before Barack Obama appointed him to his FBI post.
The new chief was soon undermining presidential priorities on forming a federal policy on cyber-security and encryption. He publicly took the opposite stance to the White House on the repercussions of the Ferguson shooting. Then came his decision to hold a press conference into the email investigation in the summer, during which he officially cleared Hillary Clinton of illegal acts but then went on to scathingly criticise her about the matter.
This, in itself, was in breach of FBI protocol, ignoring a Justice Department warning that it would look like interference in the election and would be against established Bureau practice. At the same time, we have now learned, Comey had tried to stop revelations that Russians had hacked Democratic party emails, the contents of which had helped the Trump campaign. The director apparently argued that it was too close to the election for this to be made public.
The Democrats, of course, are furious with Comey. But there has been mounting criticism of his actions over the Clinton emails from Republicans as well.
Charles Grassley, the chairman of the Senate Judiciary Committee, pointed out that the director's letter "was unsolicitated and, quite honestly, surprising. Congress and the public deserves more context to properly assess what evidence the FBI has discovered and what it plans to do with it."
Newt Gingrich, the former House speaker and a Trump supporter, said "Hillary is right" in demanding that the FBI should now come clean about what the fresh batch of emails actually say. "We should not be forced to vote with 10,000-plus emails still hidden by the FBI… [the] FBI should release all, Americans have a right to know."
Trump himself, facing defeat at the polls until Comey's intervention, has been exultant. "We have fantastic people at the Justice Department, fantastic people at the FBI," he cried at a rally.
A senior security official's bemused view was that for the Republican candidate it was "manna from the FBI. He must feel this has been a tremendous stroke of luck. Except it wasn't luck, it was James Comey."
Security officials point out the irony of Trump now lauding the FBI: he has been highly critical of the American security and intelligence agencies during his campaign. Such was the level of Trump's suspicion that he has been taking a retired Lieutenant General, Michael Flynn, to classified briefings in case he was being hoodwinked. Flynn's chief qualification as intelligence assessor it seems, for Trump, is that he is "a real fan of mine [who] feels like I do about illegal immigration, in particular".
US security officials, in turn, have been worried about Trump's statements on carrying out nuclear strikes, his public expressions of admiration for Vladimir Putin and acceptance of the Kremlin's annexation of Crimea, and his hiring of men with commercial ties to Russia.
There is, of course, the possibility that Hillary Clinton will still win the election and inherit Comey as FBI head.
She can sack him, but only one chief has ever been sacked - William Sessions, appointed by Ronald Reagan, and fired by Bill Clinton after numerous allegations of personal malpractice. Bill Clinton could not, however, fire the man he appointed to fill "Hoover's pumps". Shortly after becoming director Louis Freeh turned in his White House pass; he refused to go to the Oval Office and only spoke to Clinton half a dozen times, not once during the President's second term.
The reason was that, under Freeh, the FBI was carrying out a series of investigations, professional and personal, into Bill Clinton, ranging from Whitewater to Lewinsky. The President could hardly sack the head of the Bureau when it was investigating him. Freeh eventually resigned after eight years in office, in 2001, after FBI agent Robert Hanssen was exposed as a Russian agent.
That may be the scenario facing Hillary Clinton at the White House: lumbered with a FBI chief she loathes, unable to sack him because he is investigating her, hoping that that something occurs on his watch that will force him to leave.
The Independent
Read the whole story
· · · ·
-