CIA spills Camp David secrets on 1978 Egyptian-Israeli agreement
Ian Black writes: Declassified documents reveal how US intelligence helped Jimmy Carter strike a Middle Eastern bargain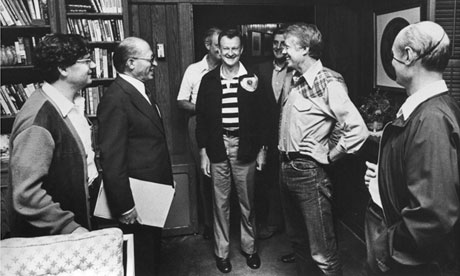 Sadat cannot afford a failure and he knows it; both Sadat and Begin think that you cannot afford failure; but Begin probably believes that a failure at Camp David will hurt you and Sadat, but not him. He may even want to see Sadat discredited and you weakened, thus leaving him with the tolerable status quo instead of pressures to change his life-long beliefs concerning Judea and Samaria. (the biblical Hebrew names for the West Bank.)
Predictably but annoyingly, the CIA has refused to reveal whether their profiles involved bugging the subjects, though one document does say they required "significant background research as well as continuing monitoring of the target leaders."
The declassified records offer few clues about the part of the Camp David agreement that failed completely — the plan for Palestinian autonomy in the Israeli-occupied West Bank and Gaza Strip.

We believe Arafat and his moderate colleagues are engaging in a certain amount of posturing for the benefit of Palestinian extremists and their radical Arab allies. He may also hope to discourage non-PLO supporters in the occupied territories from openly backing the agreements reached at Camp David.
It will be interesting to see, at some point in the future, the declassified intelligence records of another important Camp David summit devoted to the Arab Israeli conflict. For it was in the same log cabins, in July 2000 in the final months of Bill Clintons' presidency, that Israelis and Palestinians - represented this by time by Arafat - edged towards but ultimately failed to reach an historic peace agreement. The catastrophic result, two months later, was the outbreak of the second, armed, Palestinian uprising in the occupied territories — and the bleak, volatile status quo that persists to this day.
11 Nov 2013 — RUSSIAN FEDERATION
Britain has started sharing intelligence information with Russia for the first time since the fallout over the death of former Russian agent Alexander Litvinenko in an effort to assist with security preparations for the Sochi Winter Olympics. MI6 chief Sir John Sawers said British intelligence services are exchanging some of the experience they gained from the 2012 Summer Olympics in London.
Source: The Moscow Times