Next Page of Stories
Loading...
Page 2
The Obama administration is pressing the Afghan government to sign a new security pact or face the prospect of no U.S. troops in the country beyond 2014.State Department spokeswoman Jen Psaki told VOA's Afghan Service Friday that failing to conclude the Bilateral Security Agreement this year with Afghan President Hamid Karzai is "not an option" the U.S. is considering."The bottom line is we need to conclude this agreement with a signature between our two governments as...
Three rescue workers among at least 47 people killed, as search continues for any survivors trapped in rubble
The death toll from the collapse of a supermarket in the Latvian capita, Riga, rose to at least 47 on Friday as rescue workers pulled more bodies from the ruins.
Cranes lifted large slabs from the wreckage of the Maxima store to try to find those trapped after
the roof collapsed late on Thursday
when the 5,000 sq ft building was full of shoppers on their way home from work.
The death toll included three rescue workers. "In the past hours, no survivors have been found," said Viktorija Sembele, a rescue service spokeswoman.
To help rescuers identify where shoppers were during the collapse, police have created a map based on tapes from security cameras. Latvian public television said as many as 40 people could still be trapped in the rubble, based on information from the cameras, but neither Sembele nor police could confirm the figure.
"Every hour, air temperature, high air moisture – they are factors that reduce possibility to find some survivors. But, of course, hope always remains," said Armands Plorins, chief of the emergency ambulance service.
The cause of the collapse remains unknown, but the interior minister, Rihards Kozlovskis, said: "It is clear that there has been a problem with fulfilment of construction requirements."
Local media said workers had been building a roof garden on the supermarket, a single-storey building located about a 30-minute drive from the city centre. Soil, grass and parts of a new walkway could be seen dangling from the edges of the collapsed rooftop.
The prime minister, Valdis Dombrovskis, announced three days of mourning from Saturday and said the collapse had shattered the country.
"In our thoughts we are together with all those stricken by this tragedy," Dombrovskis said. "No matter what the cause of the tragedy is, the number of victims is too big."
Earlier on Friday, about 50 people gathered near the ruins for news of relatives, while others brought candles and flowers.
"I have a wife there. There is no information about her, whether she is dead or alive. Wherever I call, there is no information," said Igor Umanov. He said he believed his wife was alive.
A girl at the scene told public radio she had gone into the shop with her mother when a concrete block collapsed between them and she was nearly buried in rubble. She managed to escape but had not yet found her mother.
Other witnesses said there was a loud noise and the store went dark. People escaped through holes in the windows.
Rescue workers were called late on Thursday to the store, which according to local media had been awarded an architecture prize when it was completed in 2011. Several were injured by a second collapse because of the building's weakened structure.
Rescue workers were halting work periodically to listen for survivors and for the sounds of mobile phones in the wreckage, Latvian television said.
The state fire and rescue service chief, Oskars Abolins, told Latvian TV that heavy concrete blocks were hampering rescue efforts. He said: "As we have to search all the rubble and the whole construction, rescue work might continue for another day."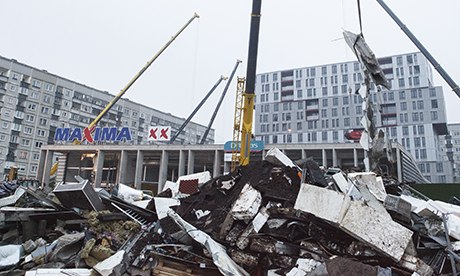 Read the whole story
· · · ·
The United States paused to mark the 50th anniversary of the assassination of President John F. Kennedy on Friday with memorial ceremonies and moments of silence.In Dallas, Texas -- the southwestern city where President Kennedy was assassinated as he rode in an open-air motorcade -- church bells chimed as several thousand people observed the solemnity of the exact moment he was shot on Dealey Plaza.Dallas dedicated a new marker with words from a speech President Kennedy planned to give that...
Next Page of Stories
Loading...
Page 3