Tehran's road to the sea
Martin Chulov
Saturday 8 October 2016 15.30 EDT
Amid Syrian chaos, Iran's game plan emerges: a path to the Mediterranean - The Guardian
Militias controlled by Tehran are poised to complete a land corridor that would give Iran huge power in the region.
The strip of land to the west of Mosul in which the militias will operate is essential to that goal. After 12 years of conflict in Iraq and an even more savage conflict in Syria, Iran is now closer than ever to securing a land corridor that will anchor it in the region – and potentially transform the Islamic Republic's presence on Arab lands. "They have been working extremely hard on this," said a European official who has monitored Iran's role in both wars for the past five years. "This is a matter of pride for them on one hand and pragmatism on the other. They will be able to move people and supplies between the Mediterranean and Tehran whenever they want, and they will do so along safe routes that are secured by their people, or their proxies."
...
Turkey has been especially opposed, fearful of what such a development means for Iran's relationship with the PKK (the Kurdistan Workers' party), the restive Kurds in its midst, on whom much of the plan hinges.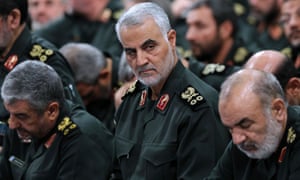 The plan has been coordinated by senior government and security officials in Tehran, Baghdad and Damascus, all of whom defer to the head of the spearhead of Iran's foreign policy, the Quds force of the Revolutionary Guards, headed by Major General Qassem Suleimani, who has run Iran's wars in Syria and Iraq...

[See also: Hossein Dehghan]
The groups, Asa'ib ahl al-Haq, Keta'ib Hezbollah and their offshoots, accounted for close to 25% of all US battlefield casualties, senior US officials have said. They have become even more influential since US forces left the country. And in one of modern warfare's starkest ironies, in the two years since US troops have returned to Iraq to fight Isis they have at times fought under US air cover.
Those who have observed Suleimani up close as he inspects the frontlines in Syria and Iraq, or in meetings in Damascus and Baghdad, where he projects his immense power through studied calm, say he has invested everything in Syria – and in ensuring that Iran emerges from a brutal, expensive war with its ambitions enhanced. "If we lose Syria, we lose Tehran," Suleimani told the late Iraqi politician Ahmed Chalabi in 2014. Chalabi told the Observer at the time that Suleimani had added: "We will turn all this chaos into an opportunity."
Securing Aleppo would be an important leg in the corridor, which would run past two villages to the north that have historically been in Shia hands. From there, a senior Syrian official, and Iraqi officials in Baghdad, said it would run towards the outskirts of Syria's fourth city, Homs, then move north through the Alawite heartland of Syria, which a year of Russian airpower has again made safe for Assad. Iran's hard-won road ends at the port of Latakia, which has remained firmly in regime hands throughout the war.
Ali Khedery, who advised all US ambassadors to Iraq and four commanders of Centcom in 2003-11 said securing a Mediterranean link would be seen as a strategic triumph in Iran. "It signifies the consolidation of Iran's control over Iraq and the Levant, which in turn confirms their hegemonic regional ambitions," he said. "That should trouble every western leader and our regional allies because this will further embolden Iran to continue expanding, likely into the Gulf countries next, a goal they have explicitly and repeatedly articulated. Why should we expect them to stop if they've been at the casino, doubling their money over and over again, for a decade?"
____________________________________
Next Page of Stories
Loading...
Page 2
Next Page of Stories
Loading...
Page 3
Next Page of Stories
Loading...
Page 4
Next Page of Stories
Loading...
Page 5
Next Page of Stories
Loading...
Page 6
KANSAS CITY, Mo. (AP) -- Royals pitcher Yordano Ventura, whose electric arm and confident demeanor helped lead his long-suffering team to the 2015 World Series title, died in a car crash in his native Dominican Republic early Sunday. He was 25....
SANTO DOMINGO, Dominican Republic (AP) -- Kansas City Royals pitcher Yordano Ventura and former major leaguer Andy Marte died in separate traffic accidents early Sunday in their native Dominican Republic....
The US will not send a special delegation to the Syria talks, which are due to be held in the Kazakhstan capital, Astana on January 23, according to the US State Department. Instead, the US will be represented by its ambassador to Kazakhstan.
"
Given our presidential inauguration and the immediate demands of the transition, a delegation from Washington will not be attending the Astana conference
," the US State Department acting spokesman, Mark Toner said in a statement, cited by Reuters.
On Thursday, Russian Foreign Minister Sergey Lavrov announced Russia's invitation to the US to take part in the upcoming talks on Syria.
Read more
"
We think it would be the right thing to invite the representatives of the UN and the new US administration to the meeting
," Lavrov said on Wednesday, at a press conference summing up the results of Russian foreign policy in 2016.
Russia's own delegation to the talks in Astana will include representatives of the foreign ministry and the defense ministry, Deputy Foreign Minister Mikhail Bogdanov revealed on Thursday.
The United Nations will also be present at the talks, with UN Special Envoy for Syria Staffan de Mistura heading its delegation, the UN has confirmed.
Aiming to end the nearly six-year war in Syria, the international meeting will be held by Turkey, Russia, and Iran.
The meeting will involve negotiations between the Syrian government and opposition groups. Syrian President Bashar Assad said the talks will focus on achieving a ceasefire and allowing rebel groups to reach "
reconciliation
" deals with the government. Assad added that he hoped the meeting in Astana would be a platform to discuss "
everything
" with opposition groups.
The Syrian opposition delegation currently represents 14 militant groups. A leader of Jaysh al-Islam, Mohammed Alloush, said he would head the rebel delegation and work to end the "
crimes
" of the government and its allies.
Next Page of Stories
Loading...
Page 7
America's influence in the region has diminished, and Russia and Iran now play a more decisive role.
Read the whole story
· · ·
Russia and Turkey, which for years have backed opposing sides in Syria's civil war, say they will work to map the outlines of a peace agreement during negotiations this week, the first major test of whether the powers' newfound cooperation can achieve a breakthrough to end the conflict.
Next Page of Stories
Loading...
Page 8
Next Page of Stories
Loading...
Page 9
Next Page of Stories
Loading...
Page 10